Mystery Decks and Golden Ticket Hunt!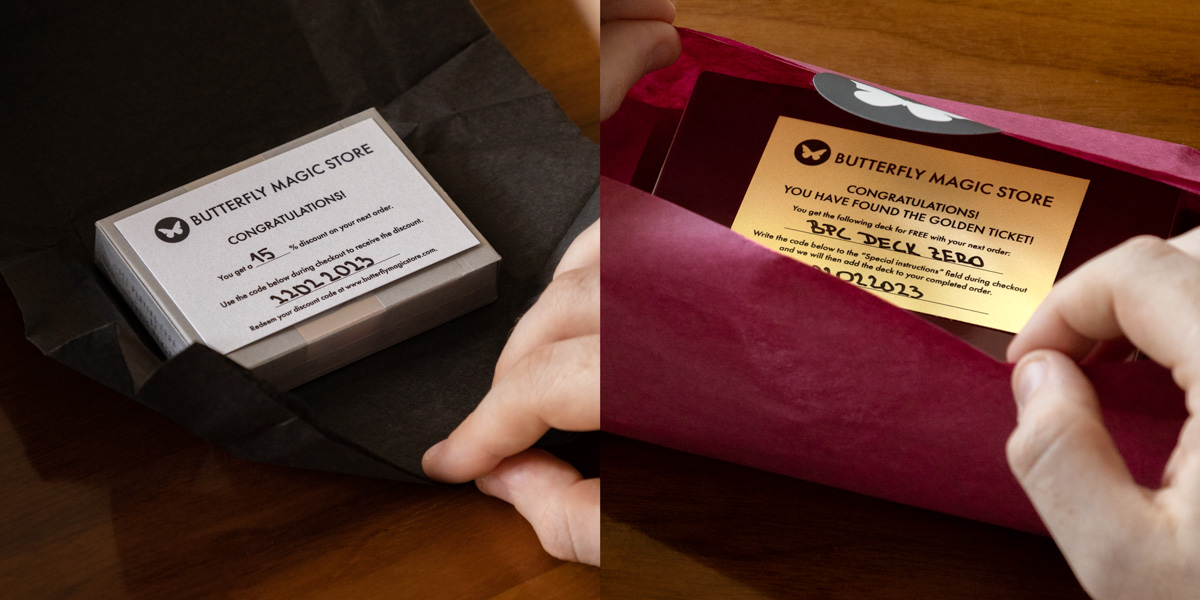 We gathered a massive collection of playing cards and want to share them with you. How? Through Mystery Decks!
Don't know what Mystery Deck means?
Simply put, you buy a deck of cards without knowing what you will get. You might get a standard deck, but you can also get a limited or valuable one.
Why are there Single and Double Mystery Decks?
Single Mystery Decks contain more valuable, limited edition decks of cards.
Double Mystery Decks contain two randomly paired decks of cards. These are great if you are looking to explore and try new decks.
How do our Mystery Decks differentiate from others?
We incorporated a Golden Ticket Hunt in them! Each Mystery Deck, Single or Double, includes a winning ticket.
There are two kinds of tickets - Silver and Golden ones.
Silver tickets include discounts for your next order*. You can get a 10, 15, or even 20% discount. They are equally spread throughout all the tickets, so the odds of getting a 20% discount are the same as getting a 10% one.
What are the Golden Tickets?
Each Golden Ticket will give you one highly collectible Butterfly deck. Use the code on the ticket with your next order, and we'll add the exclusive Butterfly deck!
The decks included are:
Butterfly Deck Zero - Only 200 decks were released to the public. We kept the rest as our private reserve.
Butterfly Black & Silver Gilded Prototype - Only 250 decks were made, and these were never released to the public.
Magnolia Black Edition (1st Edition) - Only 288 decks exist. These were only available in 2021 as part of a package for Ondrej's Magnolia Show.
Ten percent of all Mystery Decks include a Golden Ticket. Golden Tickets are equally spread between Single and Double Mystery Decks.
If you buy multiple Mystery Decks and get a Silver and Golden Ticket, you can use both for one order. That means your next order might cost 15% less and include a Butterfly Deck Zero too!
Here is a list of decks included in Single Mystery Decks.
Here is a list of decks included in Double Mystery Decks.
Oh, we almost forgot to mention. A great portion of the decks is signed!
Did we get you interested? You can purchase our Mystery Decks here.
To close things off, you can watch the trailer we filmed with Ondřej.
*Discount codes cannot be combined. Discount codes are valid until 31.10.2023.
**Some tuck boxes might have slight dents or dings. Some of the decks included here are ten or more years old, so they might not have a perfect finish.