Complete Guide to Butterfly Playing Cards (Part 1)
The Butterfly Playing Cards family keeps on growing every year. There are many editions of Butterflies available. We've put together a guide to all Butterfly Playing Cards to help you understand their differences. This first part focuses on the Butterfly Originals.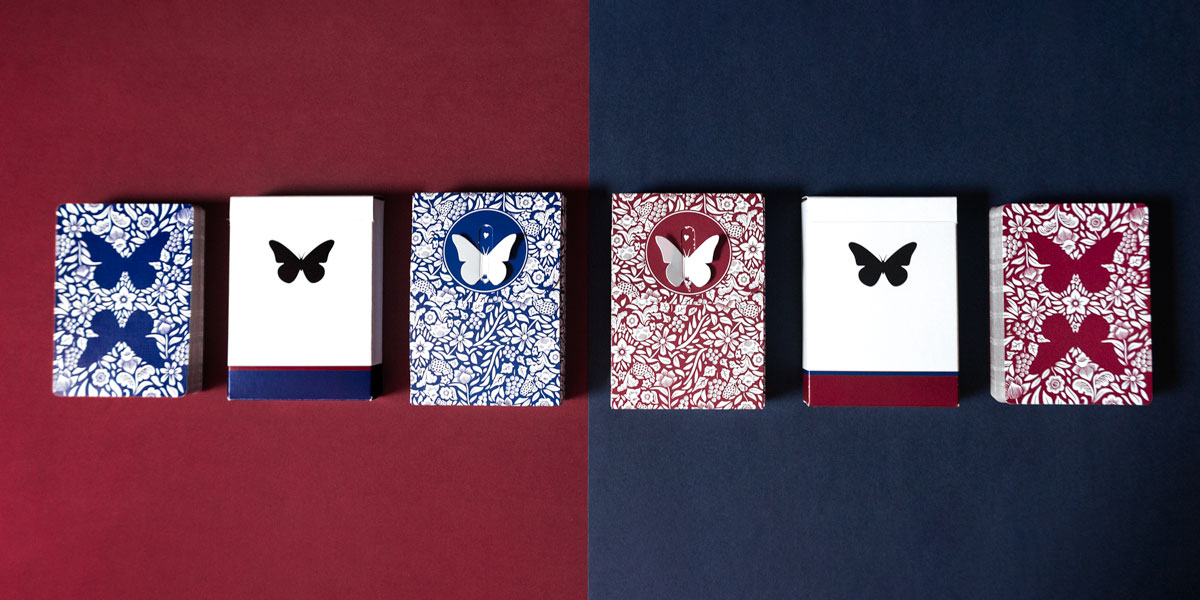 ---
Introduction
Butterfly Originals are classic Red and Blue Butterflies with a borderless design and unique marking system. How these came together?
During his magic studies in Sweden in 2015, Ondrej Psenicka, the father of Butterfly Playing Cards and founder of the Butterfly Magic Store, met Stefan Eriksson, a talented magician and designer. The two worked closely together on perfecting the cards' design. And after eight different prototypes and countless conversations with renowned magicians, the final version was ready to be released to the public. You can watch the first-ever teaser for Butterflies here.
The First Edition
The first edition of Butterflies was printed in 2017 after a successful 2016 Indiegogo campaign. It was produced in two versions - one for the Indiegogo backers and a second in collaboration with Murphy's Magic. The Murphy's Magic version introduced Spot UV Coating, a thermochromic butterfly on the tuck box, and a Tyvek wrapper with our trademark flower pattern. These features were later used for the second edition Original Butterfly decks.
An unmarked version was also produced as a deck suitable for card games. Only 1.500 decks of each color were printed. These are the last decks from the first edition still available. What was made a deck for card games became a collectors' piece over time. And even though they are Unmarked, you can mark our words - there is something special about them.
As the first edition was the smallest print run of all the classic Butterfly decks, it quickly sold out. That meant just one thing. It was time for a second edition.
The Second Edition
Ondrej again joined forces with Murphy's Magic to produce the second edition of Butterflies. This was also the first time Refills got introduced. Refills are standard, marked borderless Butterfly decks that do not include the instructions. They were created for magicians who know how to use a Butterfly deck.
The second edition featured an improved marking system that provided for better and easier readability of the markings. It also introduced the classic USPC standard-sized pips and indexes.
The second edition was printed in a much larger quantity, so it took some time to sell out. Interestingly, the Blue Butterflies sold out a year before the Red ones. And what did that mean? Third edition!
The Third Edition
The third edition of Butterflies was self-produced and released on 2021 Black Friday. It was printed with Cartamundi as the previous editions were, but we used their thin and snappy Slimline stock this time.
The Aces feature large center pips with a flower pattern. Every Third Edition Butterfly deck includes a double backer.
Ondrej added more features to the deck, and as he used it almost every day for four years, he learned and developed new effects with it. He shares these in a brand new, over two hours-long tutorial. It includes over a dozen effects and countless tips and subtleties for performing with Butterflies.
The Original Butterfly decks are the ones including the tutorial. This should be your first deck if you are new to the Butterflies. You can use everything you learn from the tutorial with the Black Series or the Borderless Seasons decks.
There are several "Easter Eggs" hidden along the edges. They are secret and specific marks that are not explained anywhere. Will you find them all?
---
The End
We've talked about the three versions of Red and Butterflies. Would you like to see what you can do with Butterflies? Go back on memory lane and watch the first videos of Ondrej performing these classics - Impossible Divination, Clocking, Diplopia on Steroids, and Cutting to a Card.
This has been the first part of our guide to Butterfly Playing Cards. The next one will be focused on the luxurious Black Series.
Is there anything you want to know more about? Feel free to send us an e-mail, and we will answer your questions.
One more thing! Make sure to check out our friend Ruben Gosali Lie's post on United Cardists, where he explores the whole Butterfly Playing Cards lineup.